MNPHA is pleased to present the recipients of the 2016 Spirit of Housing Awards.
The awards were presented at the 4th Annual Building Partnerships Conference held November 22-24 in Winnipeg, Manitoba.
Awards were presented by Ms. Laurie Socha, MNPHA President and Ms. Joanne Schmidt, Chair of the Awards Committee.
Award categories included the Spirit of Achievement Award, Spirit of Service Award and the Harry Lehotsky Spirit of Leadership Award.
MNPHA is proud of our members.  We know you're proud of each other, and we thank everyone who submitted nominations for this year's awards.
---
Spirit of Achievement Award – Hart Kapitloer

Hart Kapitloer  currently services on the non-profit housing boards for the
Metropolitan Kiwanis Courts,
James Kiwanis
Villa Heidelberg.
He is passionate about his community and volunteer work.  Serving on three boards makes him a very busy person not only attending regular meetings but also for consultations on construction matters.  Hart has been instrumental in the development of St. James Kiwanis affordable seniors housing. With the use of his accounting skills he has actively participated in the development and construction of multiple senior housing units in Metropolitan Kiwanis Courts.  They have appreciated and benefited from his eight years of service as a board member.   Villa Heidelberg shares the same appreciation of Hart's knowledge and support as he has sat on their board for several years.
---
Spirit of Service Award – Volunteer Residents of Carriage House North
Carriage House North is a non for profit independent living senior's apartment complex with the mission to encourage and support resident independence thru volunteer residents led programs and services.  The board provides the space, equipment and training as needed but it is up to their resident's leaders to take charge. Ideas are resident driven as is the event itself.
As a result, residents are successfully providing opportunities including weekly and daily programs for cards and table games, movies, occasional tours, gardening and other special events.
Their greatest achievement is their meal program.  Under the leadership of Sylvia Twerksy a team of 15 volunteers including her husband Allen of 15 provide affordable tasty meals every second Tuesday for approximately 65 residents.  They also plan food events which coincide with special holidays with up to 100 residents in attendance.  Many a fine feast has taken place under their guidance. All residents are considered with meals being delivered to residents who are unable to attend.  New residents are always welcomed!
As a non profit housing organization Carriage House North is indebted to the work of the volunteers and is grateful for their contributions and commitment to the well-being of their community.
---
Harry Lehotsky Spirit of Leadership Award – Posthumously to George Taylor
In 1977, the (model) motto developed by McClure Place Planning Committee was,
coming Together is a Beginning
Keeping together is Progress,
Working Together is Success".
George was the Chair of that committee and throughout his volunteer work continued to believe in that motto.  For the next 39 devoted years, George volunteered his time to provide safe affordable seniors housing in West End Winnipeg and partnered with the community resources. In those early years, George and his team organized and lobbied patiently until government and community joined together.  The Planning Committee was deeply committed to the project.
George's commitment lead the newly formed  volunteer non-profit board through the intricacies of architectural drawings, mortgages, city politics, local citizens groups concerns, builders and bulldozers. The successful outcome was the building of McClure Place, an 84 suite seniors residence at 533 Greenwood Place that includes congregational space for two churches.
He remained active on the board of directors advocating for the well-being of his tenants and the financial health of the Building. George had always been a strong advocate to keep rents affordable, regardless of suggestions from funders to consider higher rents.
When he saw a need for additional services he actively worked to provide them.  Rather than denying or resist the challenges related to seniors he partnered with community resources to help seniors age in place.  George collaborated with local schools, health services and community groups to develop programs.
George was also a mentor through his willingness to share his experiences in speaking with other organizations, who might be thinking of developing more affordable housing in Winnipeg.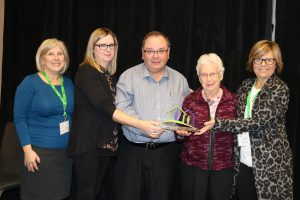 He continued to volunteer his time to build and support a sense of community for the McClure Place residents and the neighbourhood.  After serving 28 years as the Chair of McClure Place his stepped down in Feb 2008.  George continued to activity participate in the non-profit community until his passing at age 85.
For those who had the honor to work with George  describe him as a mentor, friend, caring and honorable man.   With his humor, graciousness and compassion George encouraged people to unite in community spirit.  George leaves a legacy of a committed, honorable and long serving leader and advocate of affordable housing. He exemplified the qualities recognized by the Spirit of Leadership Award.
Present to receive the award were George's wife Bernice, son Glen and daughter Janice.