Upcoming Events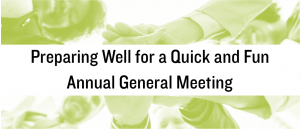 Preparing Well for a Quick and Fun AGM
The AGM is an opportunity to celebrate your organization, its people, and its achievements over the past year. This workshop will prepare Boards of Directors for a well-designed, engaging AGM that they can look forward to. Attendees will leave the workshop with templates for agendas, minutes, and speaking notes that will keep their AGMs quick and fun for years to come.
The course will cover:
AGM Basics
Reviewing your by-laws in preparation of your AGM; Notice requirements for your AGM; Preparing the agenda; Motions; Voting; Bylaw changes; Approving Audited financial statements; Minutes and documentation
Succession Planning Basics
Recruiting new Board Members; Election of Board members and terms
When: April 16, 6pm-8:30pm (light dinner at 5:30 optional)
Where: Sargent Tommy Prince Place, 90 Sinclair Ave., Winnipeg
Cost:
$50 for the first person for MNPHA member organization, $25 for each additional person (must be fully paid members in the 2019/20 membership year)
$100/person for non-members
Click Here to Register

Ready, Set, (Re)Build!
This in-depth course is designed for those looking to dive into the world of non-profit housing development and redevelopment and succeed in the modernized social housing landscape. Perfect for housing providers – including board members and senior leaders – and those approaching or past the end of their operating agreements or mortgages.
The course includes 6-10 hours of online, self-study including reading, online discussions, and assignments. This is followed by a one-day, in-person session.
By the end of the course, participants will have the skills and knowledge required to develop a development or redevelopment project proposal. They will build a network, online and in-person, with others in Manitoba undertaking development projects. They will also get valuable feedback on their proposal to assist with future proposal development.
This will be the first course offered by MNPHA with an online component. It will assist MNPHA with evaluating the demand for online courses and the ability of members across the province to access online training programs.
We are still determining the demand to decide on the in-person session location (Winnipeg + either Brandon or Winkler). If you are interested, please contact Christina to learn more.
Dates: Register by March 8, to receive access to online course material (online, 6-10 hours);
               March 11, 12:30pm- 1:30pm Optional Webinar on how to use the online training site
               In-person, full-day workshops: Winnipeg April 12, 9:00am-3:30pm;  April 13, 10am-4:30pm
Locations: In-Person sessions will be held in Winnipeg (the April 12 session is now full)
Cost: MNPHA or CHF Members: $75/person; Non-Members: $150/person
Sponsored by CMHC with support from BCNPHA and CHF Prairies
Click Here to Register
---
Previous Events


Building Effective Partnerships for Housing and Support
Effective partnerships require an investment in their development and growth. When established and maintained in a purposeful and formal way, partnerships benefit housing providers, support organizations, and the tenants they both serve.   This session highlighted the partnership between New Journey Housing and the Downtown Commons.
When: January 29, 10:00-11:30am
Where: New Journey Housing, 200-305 Broadway, Winnipeg
Cost: Free
Download the Presentation from the Session

Indigenous Housing Provider Forum
The forum was an opportunity for Indigenous housing providers to share information and ideas with each other, learn about upcoming or changing programs/strategies of government, and provide feedback to partners at MB Housing and CMHC. This year, we also had a workshop on Governance for managers and board members as part of the Indigenous Housing Provider Support Project.
Who: The forum was open to employees or Board members of Indigenous organizations who provide affordable and non-profit housing.
Where: CanadInns Polo Park, 1405 St. Matthews Ave., Winnipeg
When: November 27, 2018 9:00am-4:00pm
Download a Summary of the Forum
---


6th Annual Building Partnerships Conference
MNPHA's annual conference was held in Brandon Manitoba, and included two full days of learning and networking.
Date: October 15-16, 2018
---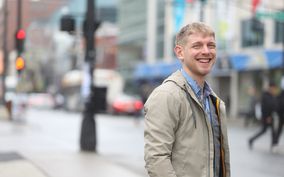 Speaker Tristan Cleveland: Designing a Happy City
Tristan is a distinguished speaker and workshop facilitator with experience in various cities across the country. He has devoted his life and career to reforming planning, so that building communities that support the basic needs of human health becomes the new minimum standard. He is an urban planner with Happy City, a company that uses lessons from
psychology and public health to design happiness into neighborhoods and cities around the world.
Date: October 15, 2018
Time: Doors open 6:00pm; Speaker starts 7:00pm
Location: Prairie Firehouse, 637 Princess Avenue, Brandon MB
Registration Fee: $21, includes one drink ticket and light snacks