MN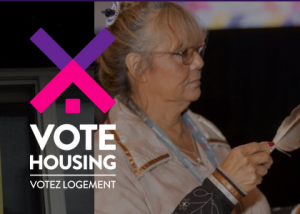 PHA has endorsed a national campaign created in partnership with the Canadian Housing and Renewal Association, the Co-Operative Housing Federation of Canada, the Canadian Alliance to End Homelessness and the Canadian Lived Experience Leadership Network. The campaign will shape what is expected to be the largest housing advocacy campaign in Canadian history.
Vote Housing is a national non-partisan campaign designed to engage and mobilize Canadians to pledge to Vote Housing in the upcoming federal election. We want to harness the power of Canadians across the country to ensure all political parties support making bold investments in affordable housing and ending homelessness.
The pandemic has exposed deep inequities in our country — especially for those historically marginalized. What's more, we know homelessness and housing need in this country were created by public policy. Heading into an upcoming federal election, with the power of our voice, our time, and our vote, we will change those policies. We've invested in safe, affordable housing in the past – we can do it again.
We encourage MNPHA members to endorse the campaign as well, and we will have updates and information on how to participate in the months ahead.
Watch the campaign video here, and learn more about how to get involved here.