Associate Members to be eligible for board of directors
Just over 50 MNPHA members participated in the Annual General Meeting and Education Event on Wednesday, June 7. The event included workshops on Capital Planning and Policy Development as well as the annual meeting where members participate in the governance of the organization.
Highlights from the AGM include:
· Incumbent MNPHA board members Karl Falk, Joanne Schmidt and Paullette Simkins were re-elected to the Board for an additional three year term expiring at the AGM in 2020. Also elected to the Board was Gordon Westley from Chesterfield Housing. He was also elected for a three year term expiring in 2020. Welcome Gord – we look forward to working with you and benefitting from your expertise!
· Members at the AGM took action to amend the MNPHA bylaws to include a provision for Associate members to vote at future AGMs and for one seat on the Board to be filled by an Associate. At our next AGM, an Associate member will be able to be elected to the Board. In addition, Corporate members now may also be represented on the Board in an advisory, non-voting capacity.
· Mike Yosyk from MYPD Accounting walked members through MNPHA's financial report review. He assured members that MNPHA is in a healthy financial position with no concerns at this time about sustainability or viability of the organization.
Thanks again to all those who attended the event!
Meet MNPHA's newest Board member: Gordon Westley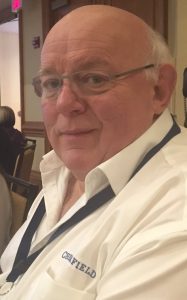 Gordon Westley was elected to the MNPHA Board of Directors for a three year term expiring in 2020.
Gordon has served on the Board of Directors of Chesterfield Housing for the past twelve years. He served as the Secretary/Treasurer on the Board for three years and is currently the Board Chairperson, a position he has held for the past five years.
He is also the Project Manager for Chesterfield Housing's new building project, Kinsmen Place, which will feature forty-five one bedroom units of safe, affordable housing for persons who are aged 55 plus.
In addition to serving Chesterfield Housing, Gord has been an active Kinsman in clubs across Canada for thirty years.
Welcome Gord!