Cannabis Legalization Introduction and Overview
A legal brief on cannabis legalization as an overview of the legislation and summary of options for housing providers, which has been reviewed by legal experts, is now available for MNPHA Members. You can request a copy by sending an e-mail or phoning MNPHA.
Key Issues in Affordable Housing
Cities can be strong advocates and partners for affordable housing. They can develop plans, provide funding, and implement regulations that support an increase in affordable housing.
MNPHA developed fact sheets on affordable housing in nine of Winnipeg's largest municipalities. We hope members will use them to engage with municipal representatives, to work together on meeting Manitoba's affordable housing needs.
Download Fact Sheets for: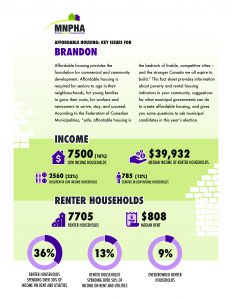 Canadian Rental Housing Index
The Canadian Rental Housing Index (CRHI) is a comprehensive database of rental housing statistics, displaying information for more than 800 regions and municipalities across the country. The Index provides a data-driven foundation for policy-making decisions at all levels of government and the community housing sector.
The Index can be used to track and compare average rental costs, how rental housing spending compares with income, and the rate of overcrowding in municipalities, regions and provinces.
The Index can be accessed online, here