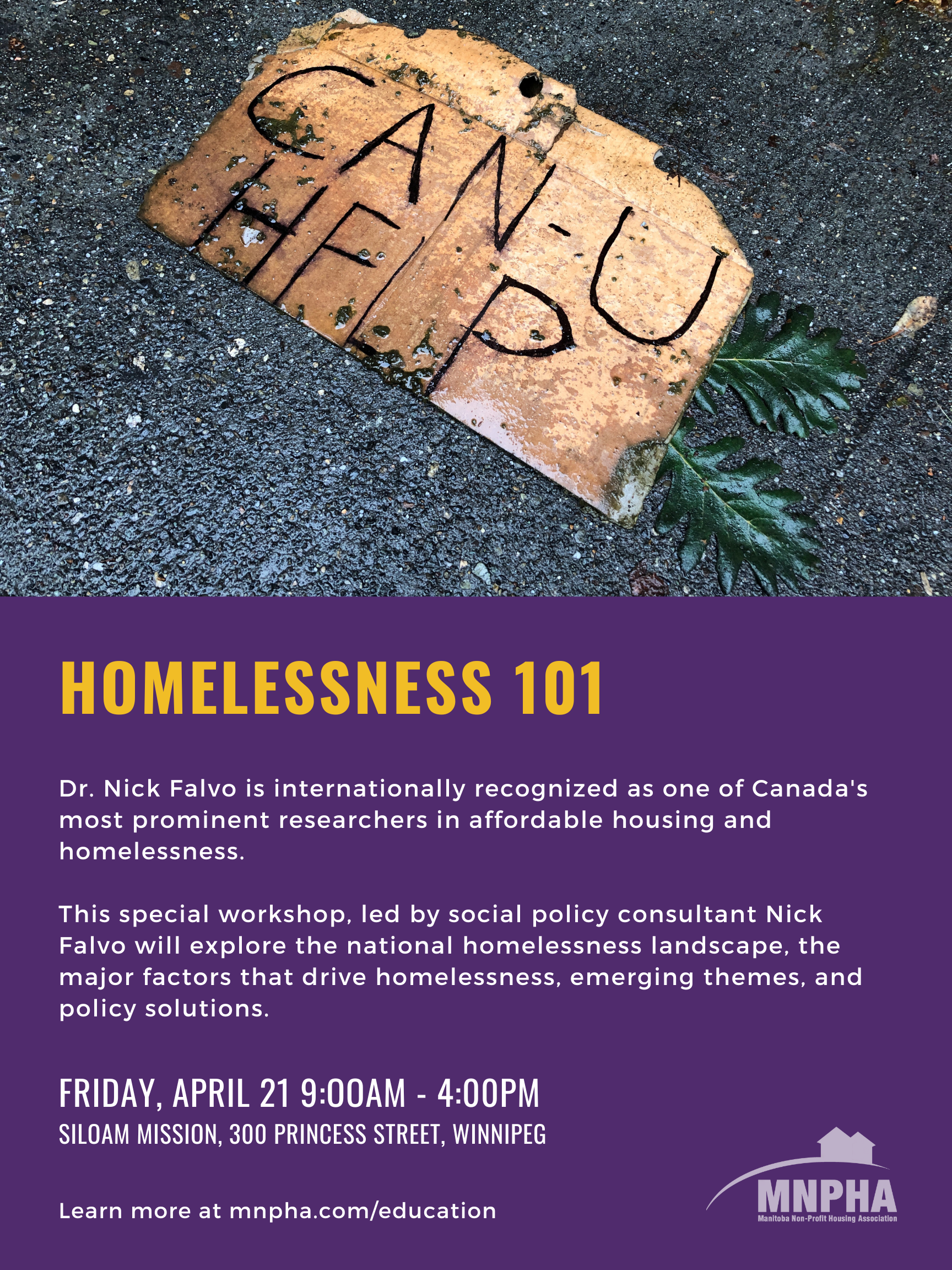 Dr. Nick Falvo is internationally recognized as one of Canada's most prominent researchers in affordable housing and homelessness.
This special workshop, led by social policy consultant Nick Falvo will explore the national homelessness landscape, the major factors that drive homelessness, emerging themes and policy solutions.
*If cost is a barrier to attending this session, please reach out to us at [email protected]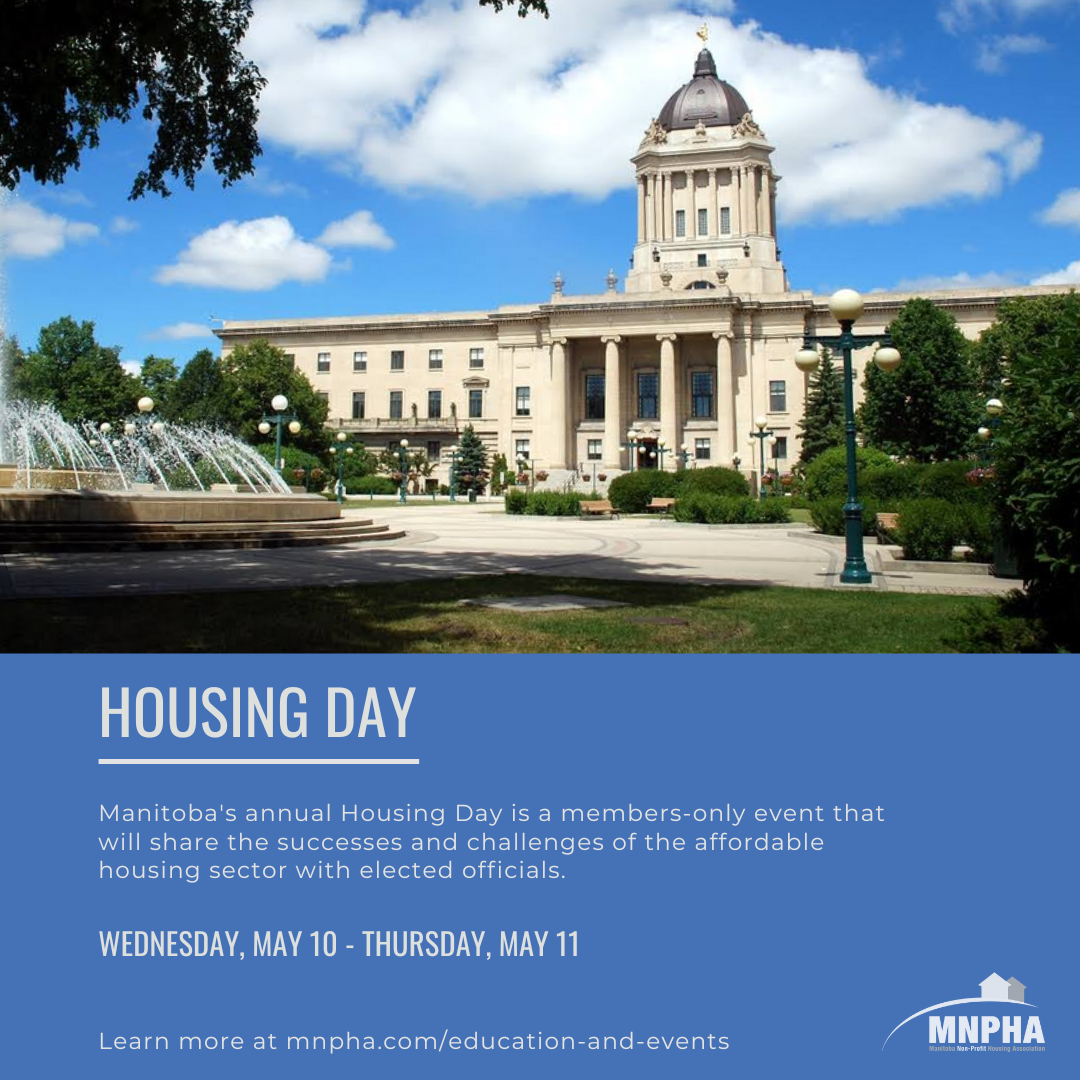 MNPHA is hosting Manitoba's 2nd Housing Day on May 10 – 12, 2023
Our province is currently facing high rates of homelessness, a lack of dignified housing for seniors, and housing affordability challenges impacting thousands of renter households. There are currently billions of dollars' worth of assets in affordable non-profit and public housing in Manitoba that will soon be mortgage-free and have increased flexibility to serve the next generation of Manitobans. Yet, these assets require rejuvenation including repairs and modernization.
This is a member only event and registration will be limited to 2 people per organization.
AGENDA:
May 10, 2023 – 12 Noon – 4:30 PM
– Introduction, presentation on key messages and discussions.
– How to talk with Government – presentation on Advocacy 101.
– Other speakers (Lobbyist, Media, and Government officials).
May 10, 2023 – 5:00 PM – 7:00 PM
– Meet and greet with MLAs at a casual networking event.
May 11 – 12, 2023 – 9:00 AM – 1:00 PM
– Different groups meet with Party Caucus.
* Date and time for the meeting with the party caucus will be sent as soon as the meetings are
confirmed.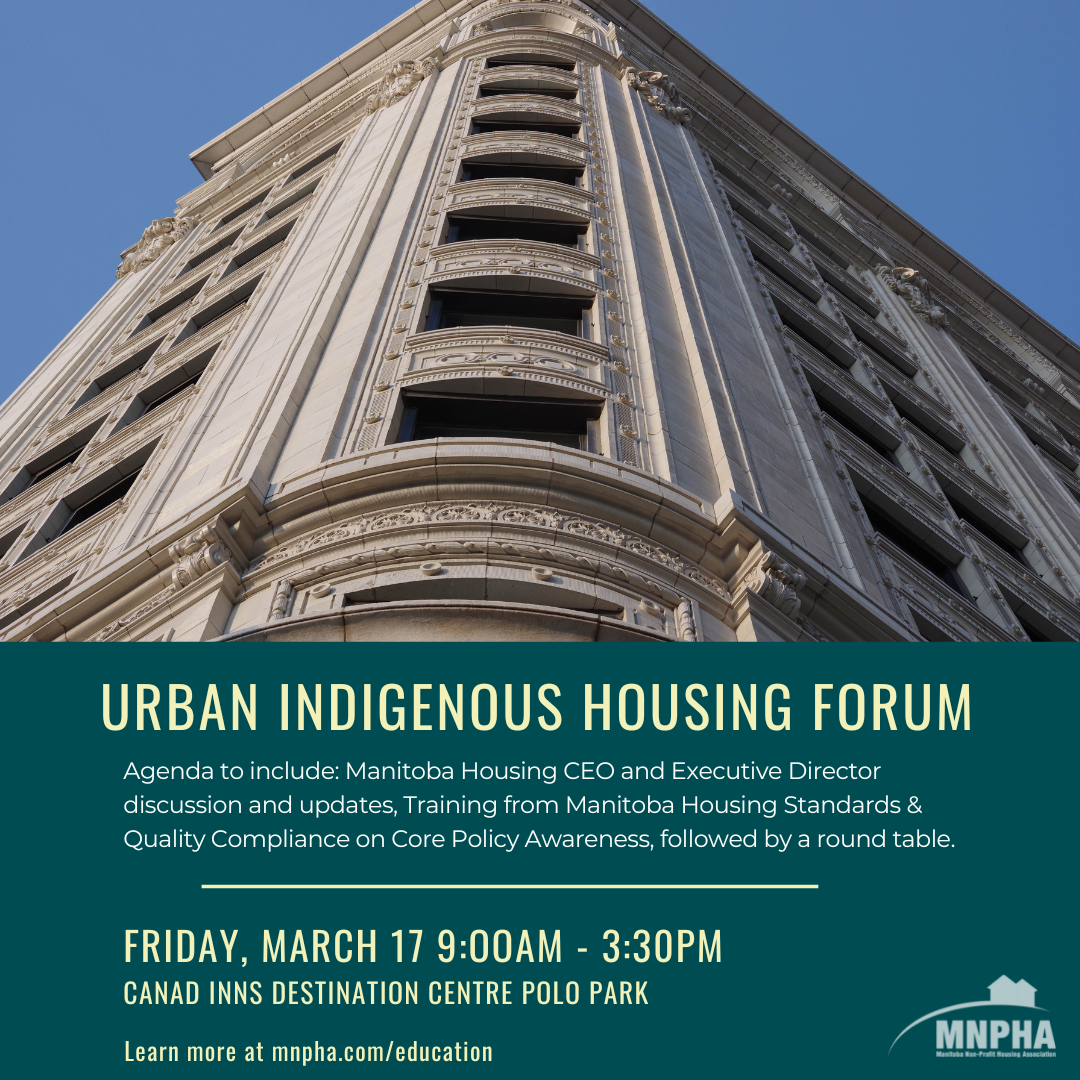 The Annual Indigenous Housing Forum
Urban Indigenous-led housing organizations in Manitoba are invited to attend the annual Indigenous Housing Provider Forum. The forum is designed to bring Indigenous organizations together to network, learn from each other, and engage in the issues impacting them.
This year's agenda includes a discussion with Manitoba Housing's CEO and/or Director of Portfolio Management; Policies, Standards, and Practices: Training from Manitoba Housing Standards & Quality Compliance on Core Policy Awareness, followed by round-table discussion on practices, challenges, and solutions; and a presentation on good practices for pest control.
This session is only open to Indigenous-led housing organizations.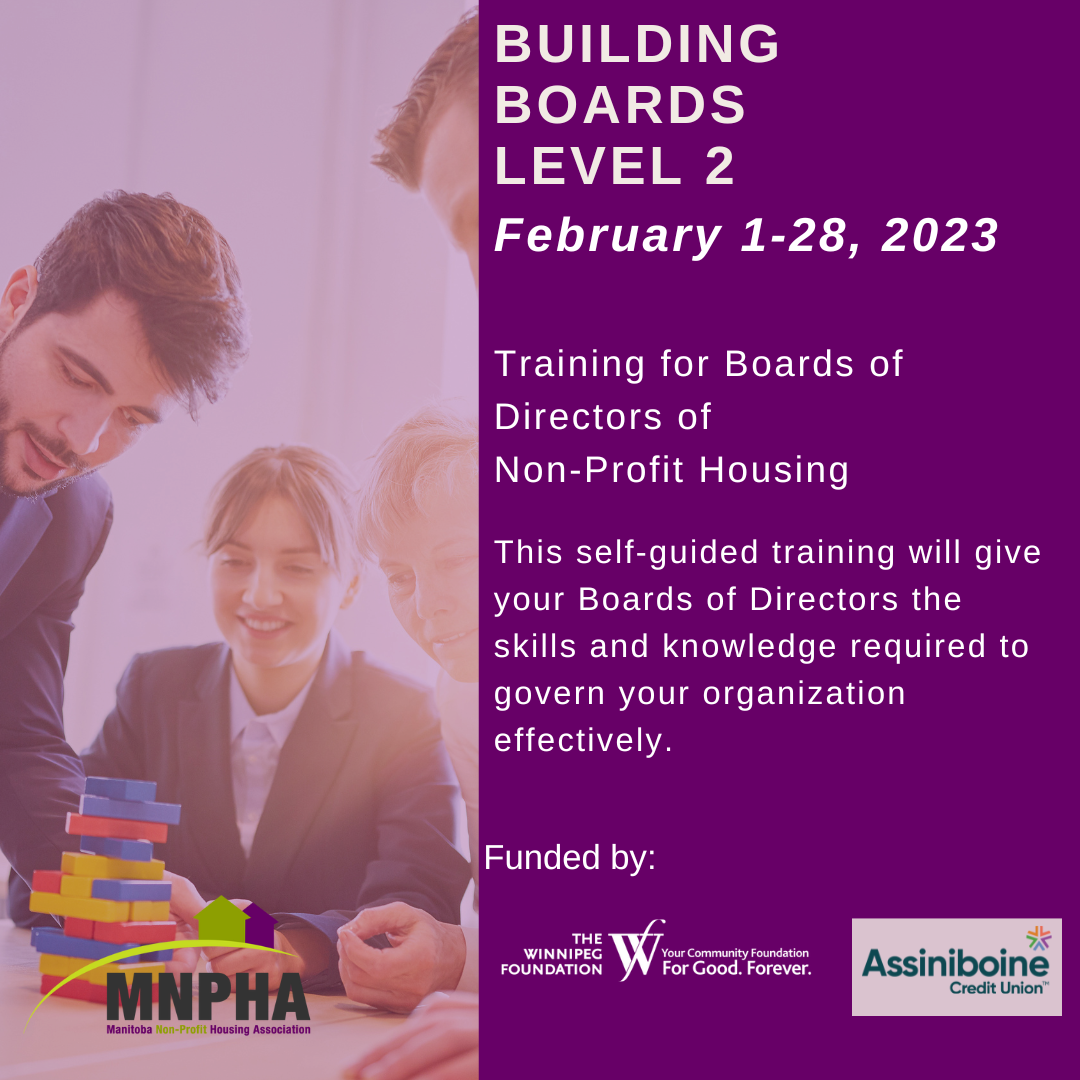 Building Boards Training Level 2
Calling all Board Members! MNPHA has designed a board training program, tailored to board members serving the non-profit housing sector.  Whether you're new to non-profit board governance, new to a housing-focused organization, or experienced in both, this custom-designed training for the non-profit housing sector in Manitoba is for you.
This training program consists of two courses –
Level 1 and Level 2
– and each course is composed of 3 modules. Each module covers a foundational topic of board governance and includes tools that participants can put to use in their own organization. Level 2 builds on the skills introduced in Level 1, and covers the following topics:
Strategic Plan

– learn the importance of having a strategic plan, including how to develop and implement a plan that will benefit your organization's longevity and stability.

Financial Oversight

– gain an understanding of how to interpret financial reports, identify risks, and safeguard your organization's assets.

Bylaws and Legal Requirements

– become proficient in creating bylaws for your organization, learn how to hire effective executives, and interpret legal requirements.
The course is self-directed, online via Google Classrooms, and is delivered via a blend of videos, readings, and resources. It is designed for both new and experienced members of Board of Directors of housing organizations. We encourage all new members of boards of directors to join this training program, and each organization to have a minimum of two members who have completed both levels.
Trainer: Rolande Kirouac, High Achievement Training
Pricing: 
$95 + GST for the first participant of a MNPHA Member organization

$45 + GST for each additional attendee of a MNPHA Member organization

$120+ GST for each non-member

$200+ GST for unlimited registration for a Board – yes, your whole Board can join!

The Building Boards Program is offered with the financial support from the Winnipeg Foundation and Assiniboine Credit Union.
The self-directed online course should take 4-5 hours to complete, with videos, reading, and assignments, and you will have 1 month, from February 1-28, to access the materials.
Cancellation and Refund Policy
We do not issue any refunds for this course.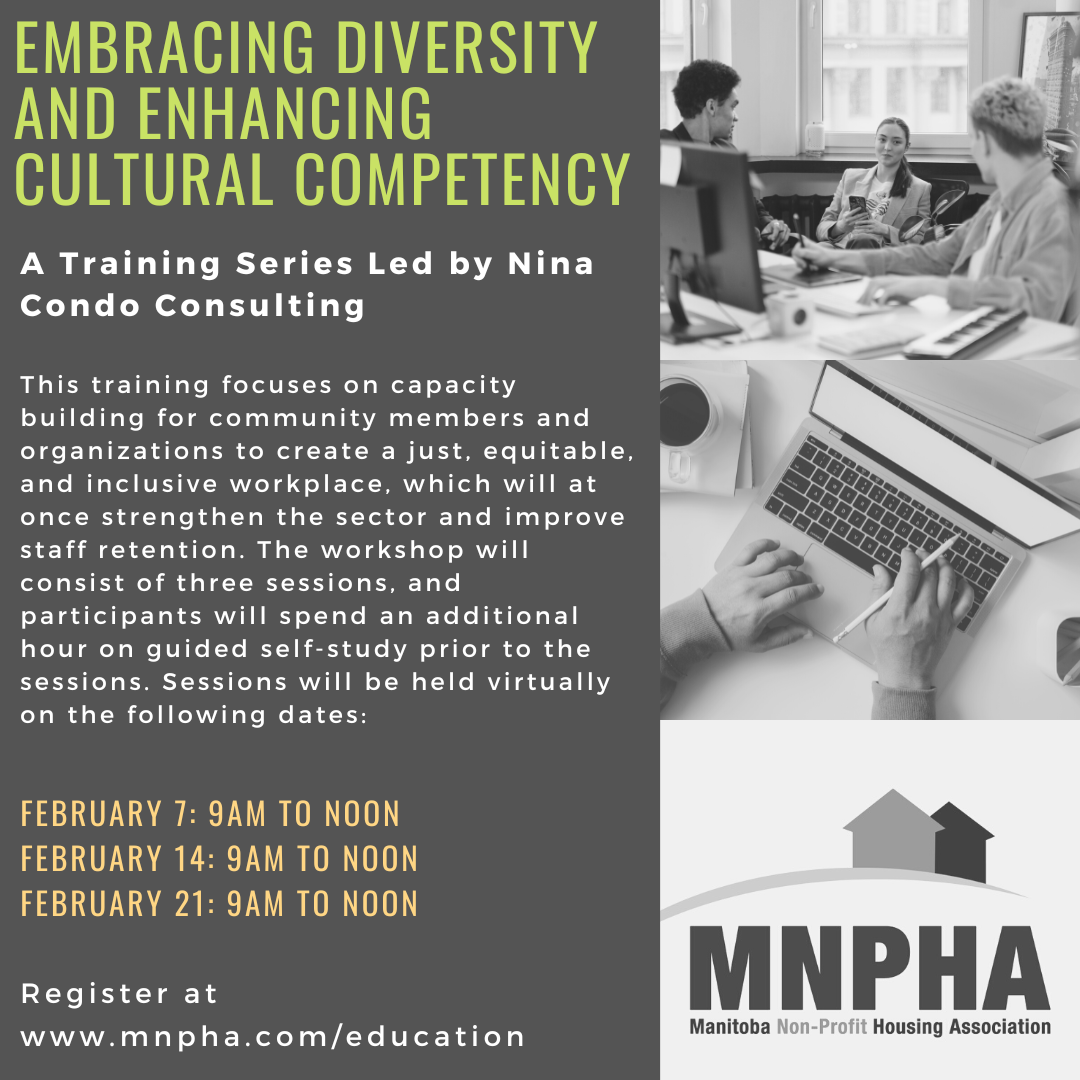 Embracing Diversity and Enhancing Cultural Competency
February 7, 2023

February 14, 2023
February 21, 2023
MNPHA is pleased to offer a training series addressing diversity and inclusion in non-profit organizations
Diverse workplaces encourage more innovation and creativity. When organizations create cultural safety and people of diverse backgrounds are meaningfully included in non-profit housing, there is greater staff retention and engagement, and tenants are better served. This workshop will explore anti-racism approach in policy, diversity-focused recruitment strategies, practical tools to mitigate bias, micro-aggression, integrating equity and diversity practices for an inclusive environment.
This virtual workshop series led by Nina Condo Consulting consists of three sessions that focus on capacity building for organizations. The training aims to increase awareness about how to dismantle racism while building cultural safety within organizations, the broader communities, and our society. It will provide participants knowledge, skills, and examples of practices and policies that their organizations can implement.
Workshop sessions will run on the following dates from 9:00am to 12:00pm:
February 7
February 14
February 21
Registration:
$275 + GST for MNPHA Members
$350+ GST non-members
If the cost of these sessions is prohibitive but you feel that they would benefit your work or that of your organization please don't hesitate to contact Beth at [email protected] or Christina at [email protected] to discuss sliding scale options.
Life Lease Governance Training: Today's Non-Profit Challenges 
February 2, 10:30am-1:00pm, Riverbank Discovery Centre in Brandon

OR
March 23, 9:00am-2:00pm, Bourkevale Community Centre in Winnipeg

A Workshop for Board Members, Tenant Representatives, and Managers of Life Leases
Wendy Bulloch from Building Up has created materials and topics specific to Life Lease governance based on feedback from Boards, Management, and Tenant Representatives about their training needs.
The workshop includes case studies of Manitoba Life Lease Boards that have been successful in the areas of tenant representation, and covers board director responsibilities, reviewing bylaws, succession planning, and orienting new board members
Cost: Free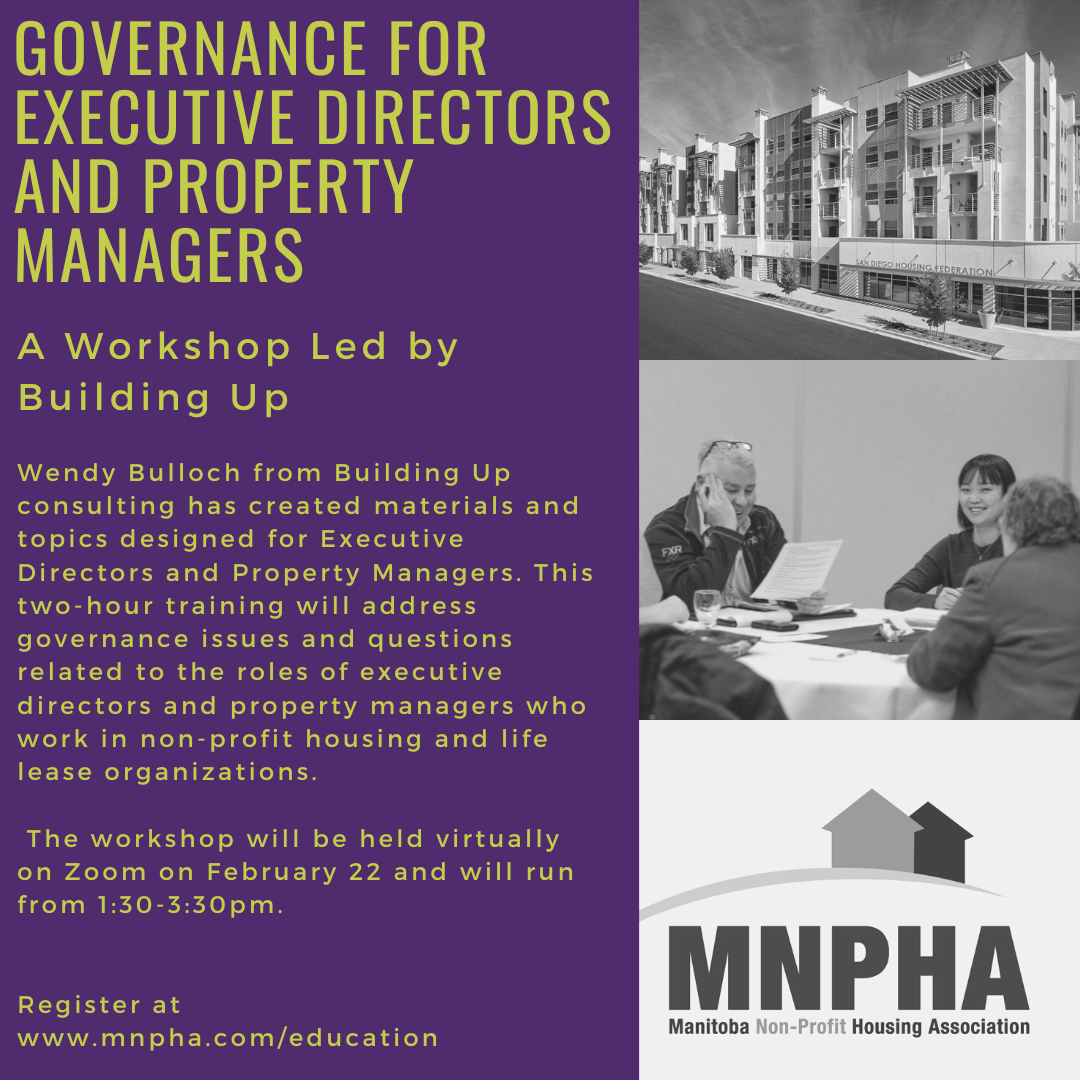 Working with Boards: Governance for Executive Directors and Property Managers
February 22, 1:30pm-3:30pm

Online (via Zoom platform)
Wendy Bulloch from Building Up consulting has created materials and topics designed for Executive Directors and Property Managers. This two-hour training will address governance issues and questions related to the roles of executive directors and property managers who work in non-profit housing and life lease organizations.
Topics covered will include reporting, the role of management, governance, board of director relations and communications, and conflict resolution. The workshop will be held virtually on Zoom on February 22 and will run from 1:30-3:30pm.
Cost: Free