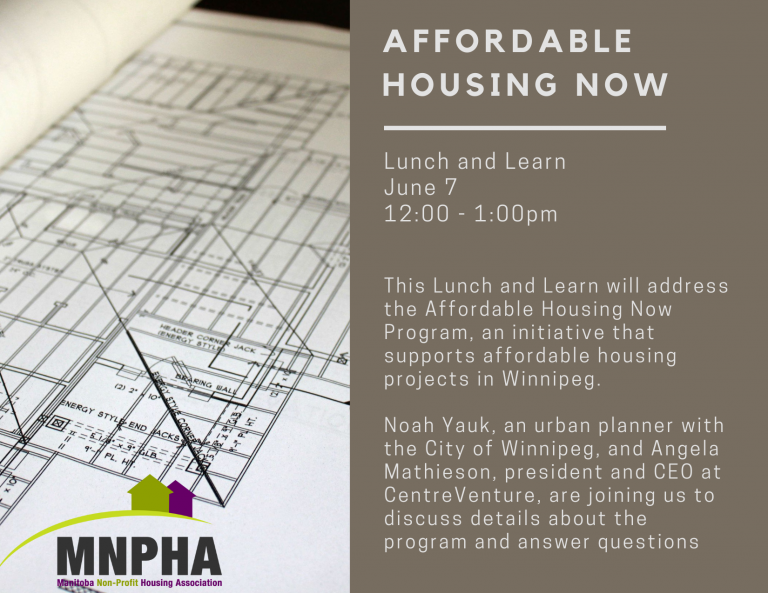 This Lunch and Learn addressed the Affordable Housing Now Program, an initiative that supports affordable housing projects in Winnipeg participating in Canada Mortgage and Housing Corporation (CMHC) affordable housing programs under the National Housing Strategy.
The program is designed to leverage federal funding programs available to projects that may require support from another level of government. It will provide eligible projects up to $2 million in grants to offset construction and permit fees, offer tax increment financing opportunities of up to 80 per cent of municipal incremental tax increases arising from development, and enable access to existing CMHC programs and resources.
Noah Yauk, an urban planner with the City of Winnipeg, and Angela Mathieson, president and CEO at CentreVenture, are joined us to discuss details about the program and answer questions
Noah Yauk is a professional planner who holds Master's Degree in Urban Planning and an undergraduate degree in Urban Studies. Noah has been employed with the City of Winnipeg Planning Department for more than a decade as District Planner, and more recently as the City's Housing Policy and Neighbourhood Revitalization Coordinator.
Angela Mathieson is the President and CEO of CentreVenture Development Corporation, an arms-length agency of the City of Winnipeg mandated to provide leadership in the planning, development, coordination, and implementation of projects and activities in the downtown. Angela holds a Master's Degree in City Planning and has played a central role in urban development issues in Winnipeg for the last 20 years.
Watch the video below
HOUSING DAY DEBRIEF SESSION WITH MINISTER DAN VANDAL AND MINISTER ROCHELLE SQUIRES
MNPHA held a debrief session of the Housing Day. This session was attended by Minister Dan Vandal who spoke about the Federal funding for Housing and Minister Rochelle Squires who spoke about the Manitoba Government's plans for Housing. Watch the video below
MANITOBA HOUSING DAY 2022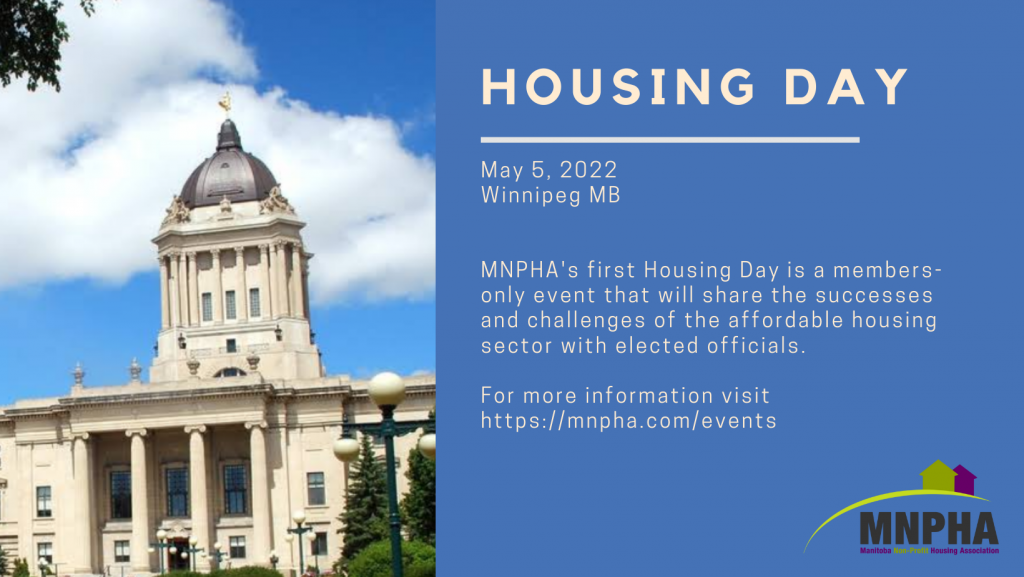 MNPHA held Manitoba's first ever Housing Day on May 5, 2022. Housing Day allowed leaders in non-profit housing to share the successes and challenges of the sector with elected officials and raise issues that matter to Manitoba's affordable housing community.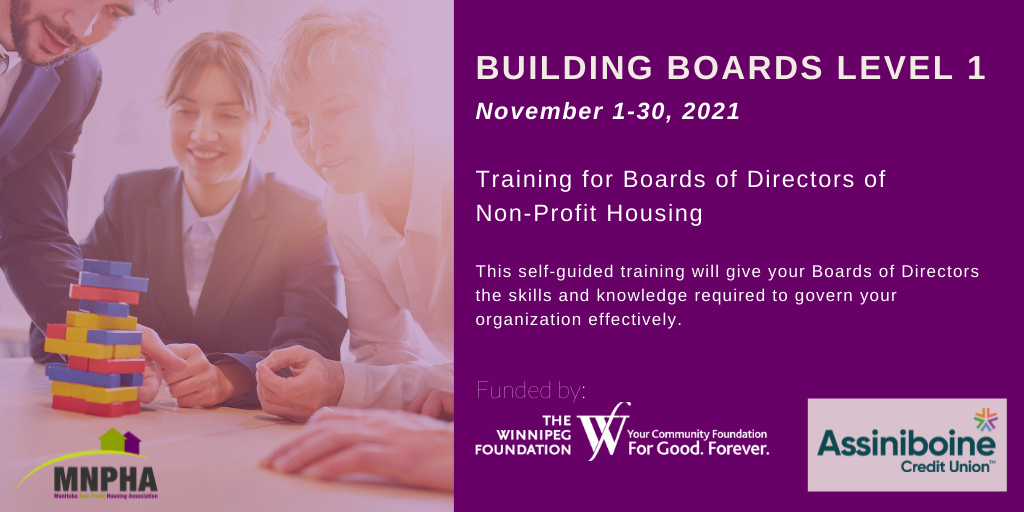 Pricing: 
$95 + GST for the first participant of a MNPHA Member Organization
$45 + GST for each additional attendee of a MNPHA Member Organization
$120 + GST for each non-member
$200 + GST for unlimited registration for a Board – yes, your whole Board can join!
The Building Boards Program is offered with the financial support from the Winnipeg Foundation and Assiniboine Credit Union. 
2021 Fall Education Series: Tenant Wellness and Eviction Prevention
In addition to the individual bundle pricing, we are now offering organizational group rates for the series. We have a $300 all-access pass for organizations with larger groups who want to attend, and a 35% discount available for smaller groups. For the all-access pass select "group organization rate" at checkout, and for the 35% discount use the code ORGDISCOUNT. Don't hesitate to contact Beth at [email protected] with any questions.
Poverty Awareness & Community Action (PACA): Poverty Awareness
The Poverty Awareness & Community Action Workshop (PACA) is an experiential learning activity led by University of Manitoba faculty and students, and community members who have experienced poverty, intended to explore the impacts of poverty and social welfare systems. 
Participants role play as members of different family units living on a lower income to develop empathy for those experiencing poverty. After the role play, participants discuss what they've learned through targeted reflection activities and plan ways to integrate their new learning into their work. 
Date: October 5, 2021 (10:00AM – 12:00PM)
Location: Online
Cost:  Member: $35 (+GST)  Non-Member: $50 (+GST)
Klinic: Mental Health Awareness
This workshop aims to provide participants with basic knowledge on the topic of mental health and mental illness. Participants will also explore values and attitudes surrounding mental illness and understand the effects of stigma. Participants will learn about the different aspects of mental health, coping strategies, and community resources. A discussion of how stress and crisis impacts mental health will also be given.
Date: October 12, 2021 (10:00AM – 12:00PM)
Location: Online
Canadian Mental Health Association: Hoarding for Service Providers
Hoarding is defined as the acquisition of, and inability to discard items even when they appear to have no value. Hoarding behaviour and the experience of a hoarding disorder can be very complicated and personal. This course will provide information about signs and symptoms of hoarding disorder and provide some ideas regarding treatment options and how to provide compassionate and effective support to a person struggling with hoarding.
Date: October 19, 2021 (10:00AM – 12:00PM)
Location: Online
Cost:  Member: $35 (+GST)  Non-Member: $50 (+GST)
Bundle Pricing Options:
$60 + GST for 2 sessions for a MNPHA Member
$85 + GST for 3 sessions for a MNPHA Member
$80 + GST for 2 sessions for a non-member
$115 + GST for 3 sessions for a non-member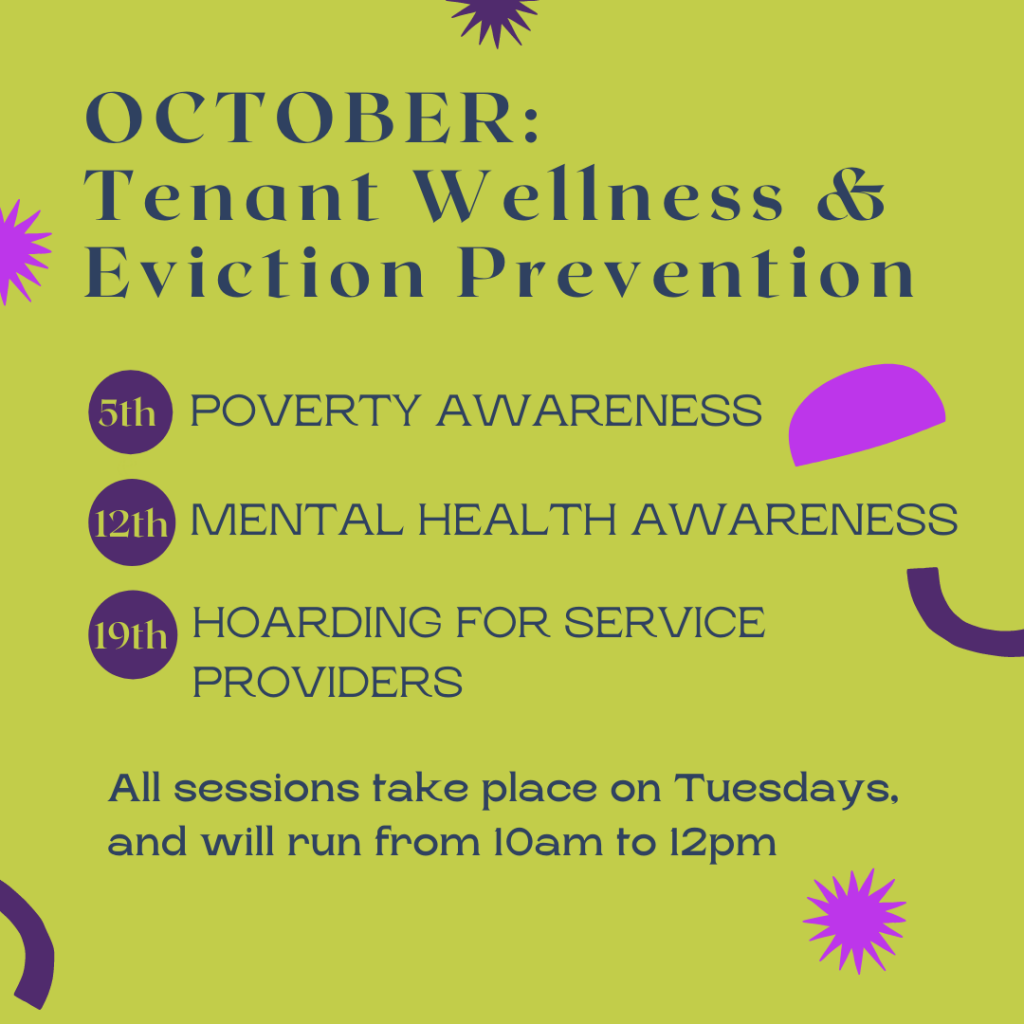 Spring 2021 – Accessible Customer Service Standard Course
MNPHA is offering the Accessible Customer Service Standard Course for our members, as a self-directed course. 
The Accessibility for Manitobans Act became law in Manitoba in December 2013. It establishes a process to remove barriers affecting persons with disabilities and many other citizens. The government has worked with public and private sector organizations to develop accessibility standards. One of the accessibility standards is about Customer Service, which includes all types of programs and services that can be accessed by the public. This course covers foundational knowledge for all staff and volunteers of the housing sector to understand the Customer Service Standard. 
Learning Outcomes:
 – Interact and communicate with persons with disabilities facing barriers
 – Recognize and respect the various supports that people with disabilities may use, such as assistive devices, support person, or service animal
 – Provide support to a person with a disability who is having difficulty accessing a product or service
This course should take 45 to 90 minutes to complete. When it is completed, you will receive a participation certificate from Manitoba Possible, which is where the $6 fee applies ($6 includes GST). We are planning to host the course quarterly. You will have a month to complete the course. 
Date: June 28-July 28. Register by July 25. 
Location: Online using Moodle Cloud platform
Cost: $6 (GST included). This is a member-only course.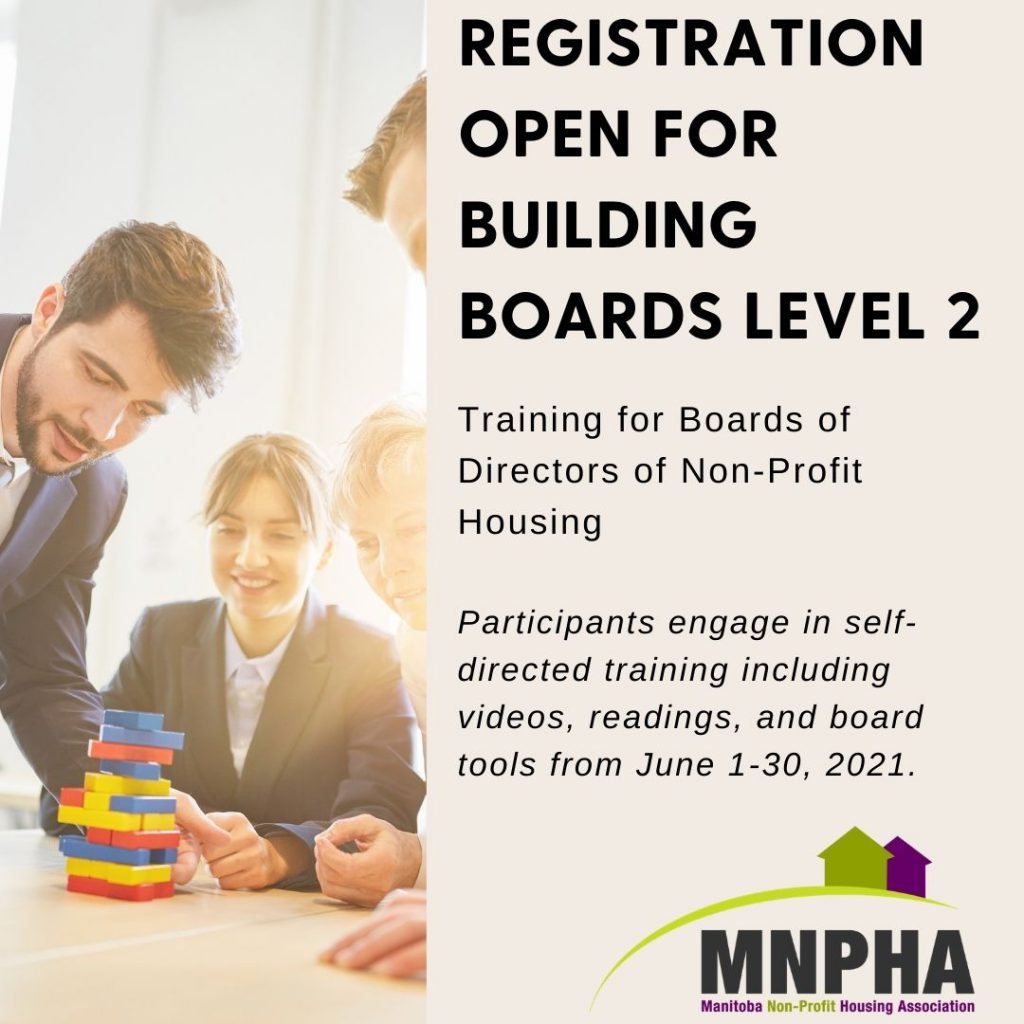 June 2021 – Building Boards Level 2
Participants have one month to complete the self guided training, which is comprised of educational videos and other materials. 
Learning Outcomes:
 – Undertake strategic planning in order to ensure the health of their organization
 – Identify the mission, vision, and values of an organization, and articulate guiding principles
 – Identify the Board's role in financial oversight, including understanding the purpose of the annual audit, and the capital planning process
– So much more!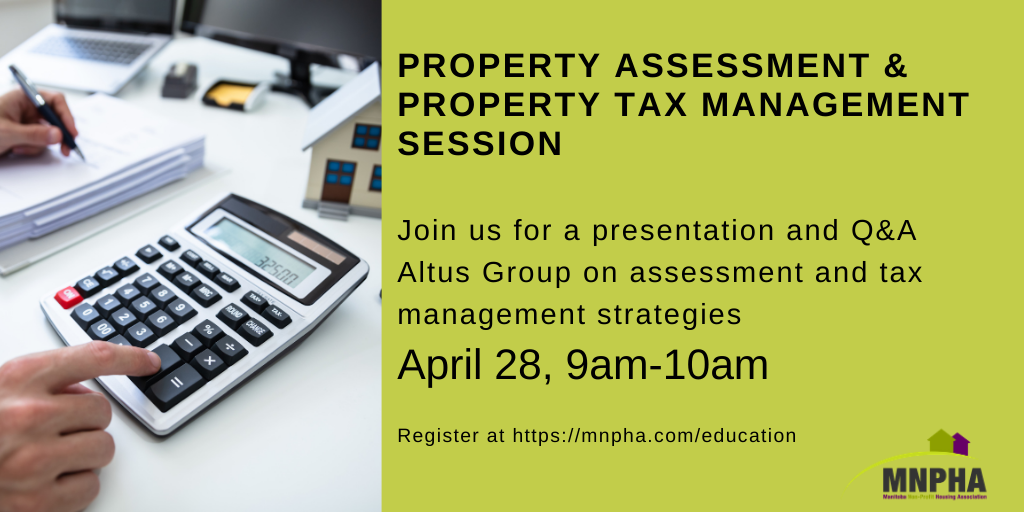 April 2021 – Property Assessment & Property Tax Information Session
As property tax represents one of the largest annual operating expenses, prudent management of property assessment and property tax issues is crucial for non-profit providers – and saves money!
Altus Group explored a number of assessment and tax management strategies that have been beneficial for non-profit providers, including the critical importance of preparing and sending replies to the Assessor's annual requests for information, assessment review strategies, and the impact of the recently announced Education Property Tax Rebate. 
Date: April 28, 2021 – 9:00 – 10:00AM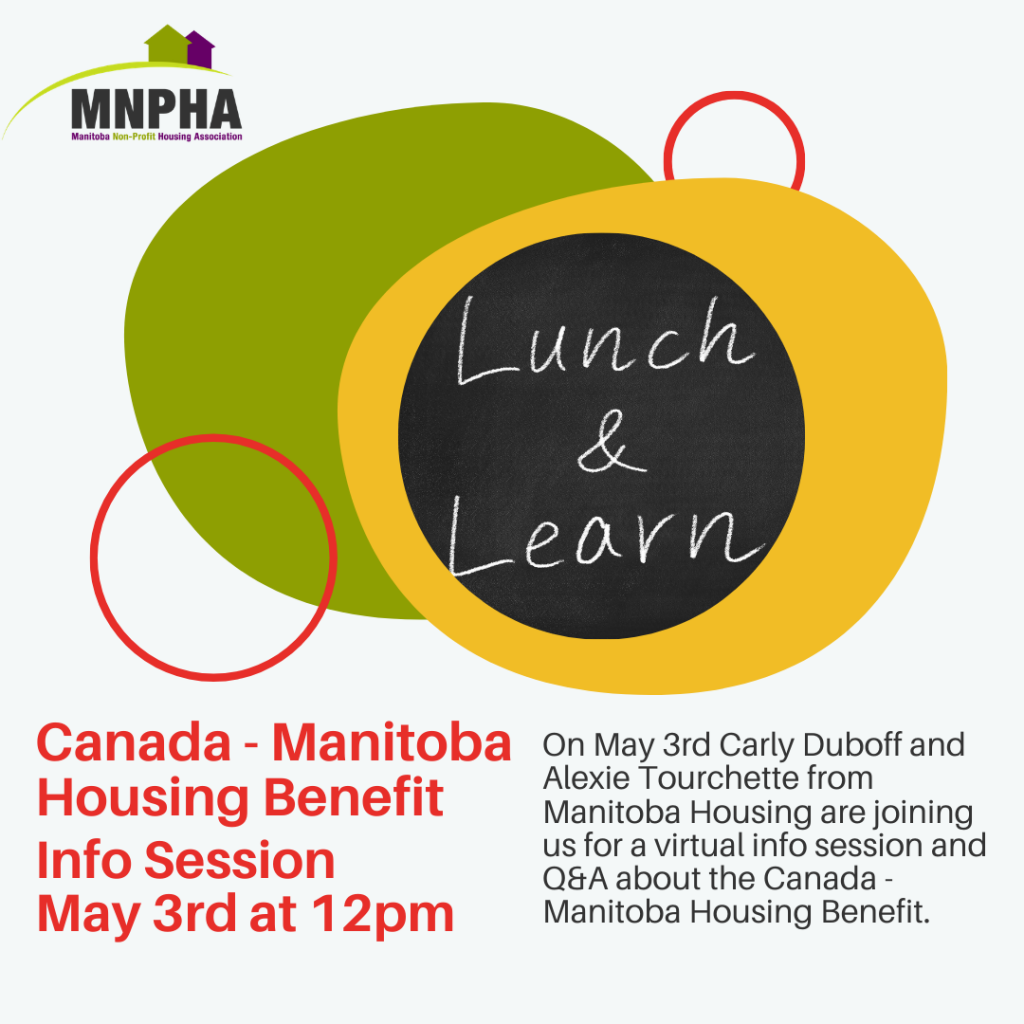 May 2021 – Canada-Manitoba Housing Benefit Information Session
The Canada-Manitoba Housing Benefit was recently announced, and will be providing a portable benefit to designated groups: young adults transitioning or who recently aged out of the care of the child welfare system, people living with mental health or addictions issues living in designated supportive housing buildings, and people at risk of homelessness. Learn more and get your questions answered in this session. 
Date: May 2, 2021 – 12:00pm – 1:00pm
March 2021 – COVID Vaccine Q&A for Housing Providers
Dr. Heejune Chang offered a vaccination info session. During the first half of the presentation she relayed key information about COVID-19 vaccination, addressing updated logistics, common misconceptions about vaccines, and how to help tenants navigate vaccine access. The second half was a Q&A, giving ample time for attendees to ask specific questions. 
Date: March 29, 2021 – 12:00pm – 1:00pm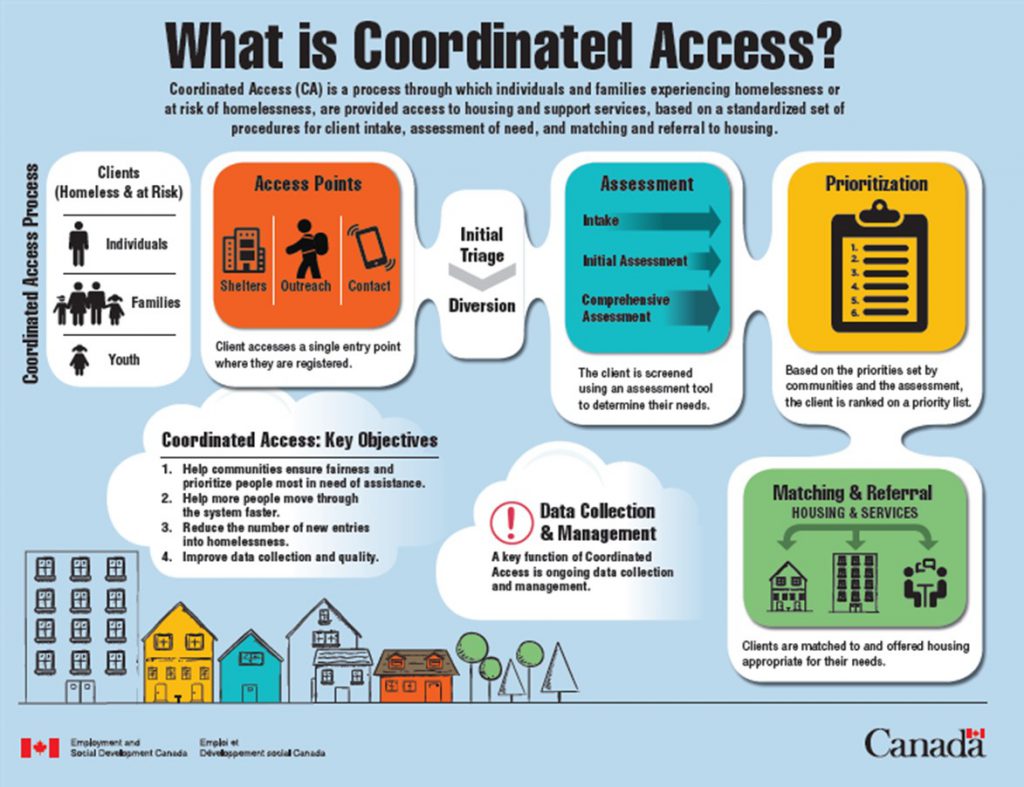 April 2021 – Coordinated Access in Winnipeg
Betty Edel, Director of Housing Supports from End Homelessness Winnipeg, provided MNHPA members a presentation about their Coordinated Access initiative on April 6 at noon. 
Coordinated Access is a process through which individuals and families experiencing homelessness or at risk of homelessness are provided access to housing and support services based on a standardized set of procedures. 
Date: April 6, 2021 – 12:00pm – 1:00pm
Location: Online via the Zoom platform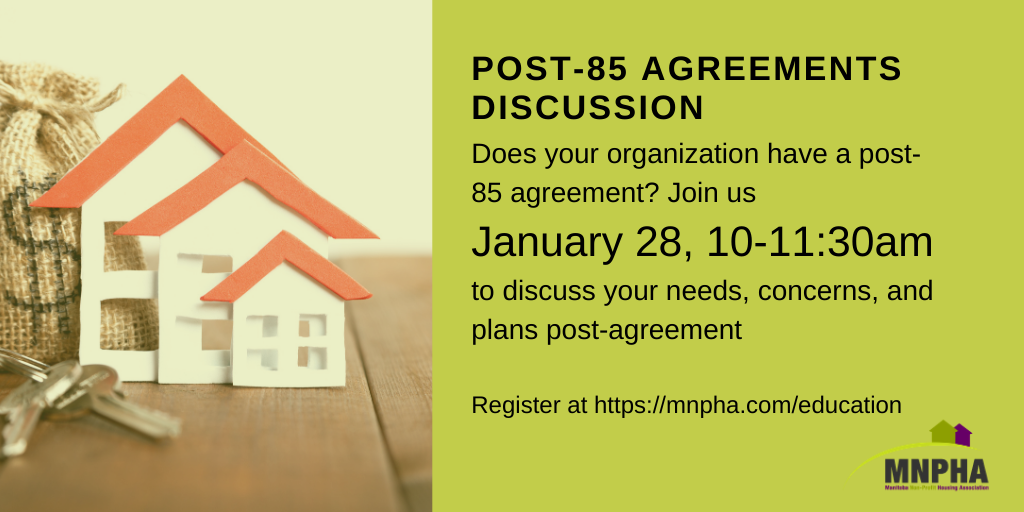 January 2021 – Post-85 Agreements Discussion
Social housing agreements are ending or have been temporarily extended. Post-85 agreements typically have 100% RGI unites, and therefore higher vulnerability post-agreement without ongoing rent or operating subsidies compared with other agreements; additionally, there is funding in the National Housing Strategy to continue subsidies until 2028, but what happens afterwards is not clear, leading to hesitation in establishing long-term programs or agreements at the provincial level. 
Post-85 agreement holders as we discussed: 
What does the National Housing Strategy and Bilateral agreement say about these agreements?
End of Operating Agreement planning process (determining viability and options)
What do you need, and what are your concerns?
Next steps