MNPHA and Dulux Paints have partnered to offer a great Group Purchase and Preferred Vendor Partnership Program, starting in April 2020. This program is aligned to MNPHA's strategic goal in providing more member benefits, and pool together sector purchasing power.
COVID-19 Response related supply – Sani Spray
Dulux is currently carrying Sani Spray, a new innovation for improved performance and efficiency in disinfection. Please check out their website, or catalogue. Pricing is listed below: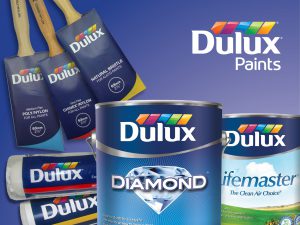 Dulux® is a global leading brand of premium quality paint, and the guiding principles for any Dulux product are to ensure they consistently live up to the Dulux reputation for verifiable, total product performance that is both recognized and expected by our customers.
Your local Dulux Paints store carries a variety of decorative coatings and accessories, including our premium quality Dulux Diamond® series.  All products within the Dulux family provide supreme performance, quality and are available at over 250 locations across Canada.
Dulux Paints recognizes the tough maintenance demands placed on commercial property facility managers.  If you would like advice or a tailored approach for your paint maintenance program, our dedicated maintenance team is here to help.
Retail Stores
There are 10 retail stores located in Winnipeg, with reasonable shipping terms for site locations outside of Winnipeg. Starting June 1, you can visit the stores during regular hours from 7:30am to 5:30 pm through Monday to Friday, and 8:00am-4:00 pm on Saturday, with selective stores open Sunday and social distancing rules in effect.
MNPHA members enjoy:
• up to 60% discount of the 40 most popular items – including interior/exterior paints and coatings, no & low odour paints (Zero VOC), specialty products for kitchens and baths
• 10% off all non-listed tools and applicators
• free delivery with orders of 10 gallons within Winnipeg and 48 gallons within 300 kilometers of Winnipeg
• complimentary Maintenance Manual for your property (sample)
For full list of items and pricing – MNPHA 2022 Price_Quote_Report-e266715
Sign up
To sign up, contact Dulux local representative Alvin or Melanie with your organization name and choose to set up either a cash or charge account. They will work with you to ensure you have the most current information on paint and other related products, and direct you to further customer services such as color customization.
Alvin Bali
(431) 374-4214
[email protected]
For product information, and much more about Dulux, at: www.dulux.ca
Be sure to ask about creating a maintenance manual for your property!