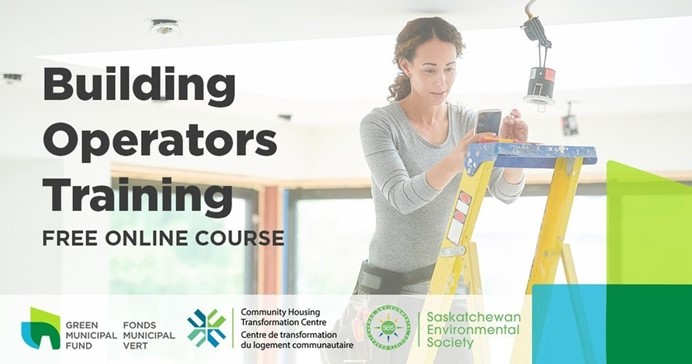 To introduce custodians, maintenance personnel, and building operators from the affordable housing sector to energy efficiency, new technologies and facility retrofits, FCM partnered with the Saskatchewan Environmental Society and the Community Housing Transformation Centre to develop a revised and customized version of a Building Operators Training (BOT) program for the affordable housing sector across Canada.
This free online course will focus on the following five areas:
Water conservation: Focusing on water use, reduction and costs.
Electrical billing: How power is produced in your province and how that affects greenhouse gas emissions, electricity demand, and typical electrical consumption.
Lighting: Lighting facts, types of lighting, lighting controls, energy-saving tips, and how to estimate energy savings.
Electrical equipment: Energy monitoring, load scheduling, compressed air, premium efficiency motors, phantom loads, car plugs, electric heat, and appliances.
Heating, ventilation, and air conditioning: HVAC systems, heat recovery systems, cooling systems, and saving calculations.
Understanding energy efficiency: a guide for affordable housing providers guide outlines energy conservation measures to increase energy efficiency in affordable housing.  The guide is responding to a need we heard in the sector for more accessible information and actionable strategies to increase energy efficiency in affordable housing. The guide outlines simple and affordable energy conservation measures for those newer to energy efficiency as well as deeper energy-savings measures for those at a more advanced stage.