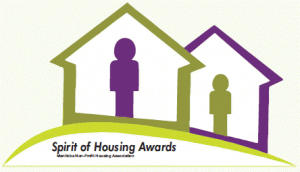 MNPHA is pleased to announce this year's recipients of Spirit of Housing Awards. We're proud of our members.  We know you're proud of each other, and we thank everyone who submitted a nomination for this year's awards.
Spirit of Achievement Award
This award honours tenants who help to make their non-profit home a better place to live and who foster connections within their communities.  MNPHA is pleased to present this year's award to the Volunteer Residents from Carriage House for planning events that bring people together and for their contributions in helping to create community.
Spirit of Service Award
This award recognizes employees or volunteers who have made a meaningful contribution that serves as a model to employees or volunteers across Manitoba.   MNPHA is pleased to present this award to Hart Kapitoler for his volunteer work and commitment to excellence on three non-profit housing boards including Metropolitan Kiwanis Courts, St. James Kiwanis and Villa Heidelberg.
Harry Lehotsky Spirit of Leadership Award
The Harry Lehotsky Spirit of Leadership Award represents the leadership of Harry Lehostky, a long timer leader and advocate of housing.  Harry received many awards for his work including the City of Wpg's Community service Award and Queen's Jubilee Medal.  In 2006, the city of Winnipeg instituted the annual Harry Lehotsky Award for Community Activism and in that year he received the Order of Canada shortly before he passed away of pancreatic cancer. Harry Lehotsky exemplified the qualities recognized by the Spirit of Leadership Award.
MNPHA is pleased to present this year's Harry Lahotsky Spirit of Leadership Award to the late George Taylor.   As part of the 2016 MNPHA Conference we look forward to celebrating his 39 year legacy of service and leadership in helping to provide safe, affordable, senior's non-profit housing in West End Winnipeg.
This year's awards will be conferred at the Spirit of Housing Awards Luncheon at the MNPHA Conference on Wednesday, November 23. Tickets for this event are available by contacting Rhonda Lorch at 204.797.6746 or [email protected].