Welcome to the Manitoba Non-Profit Housing Association
MNPHA will build, support and strengthen our members who are diverse non-profit housing providers in Manitoba through services, educational opportunities and advocacy.
Exclusive Offer to MNPHA Members with Assiniboine Credit Union
NOMINATIONS NOW OPEN!
On behalf of the Board of Directors of MNPHA, we are pleased to introduce an exclusive offer to MNPHA members with Assiniboine Credit Union (ACU). The Partnership is being launched in a Pilot Phase for 2016 and based on the response, will be re-assessed in 2017. Benefits offered exclusively to MNPHA members in order to acquire Building Condition Assessment Reports (BCA) are twofold: (1) Preferential Pricing capped at $2,000 (2) Reimbursable grant of $2,000. Details on the grant along with the application form are attached. If you are interested in applying for either of these benefits, you must fill out the application form. Note: Deadline for application is May 31, 2016.

ACU has been very involved and supportive our Association and they very much want to have the opportunity to be a partner with you, our members, in your financial requirements.

We are very pleased to enter into this Pilot Partnership with Assiniboine Credit Union that offers exclusive pricing and reimbursable grant to our members. Please feel free to contact them directly for any questions you may have.

Click here to download the Pilot Partnership overview.
Click here to download the ACU Grant for Building Condition Assessment (BCA) Reports.
Manitoba Non-Profit Housing Association's Spirit of Housing Awards
NOMINATIONS NOW OPEN!
Deadline for nominations is October 1st, 2016. Nominate a Board Member, Employee, Volunteer, Tenant or Leader in your Community!

Click here to view and download the nomination forms.
Phase 1 Report
The Expiry of Operating Agreements: Preparing Manitoba's Non-Profit Housing Sector

Click here to download the report >
Click here to download the presentation>
Conference 2016
Click here for more information.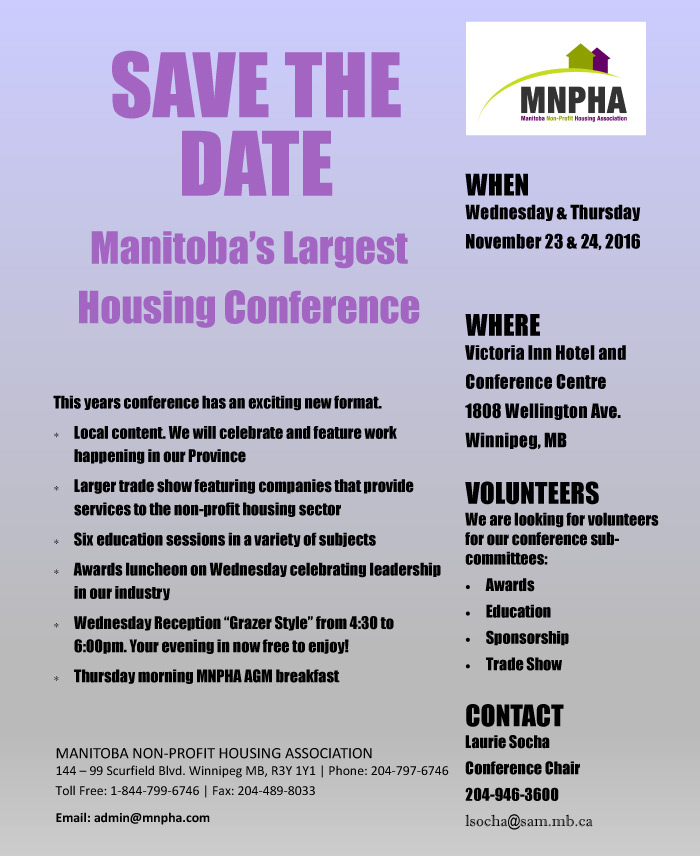 Thank you to all who completed the End of Operating Survey.
The Institute of Urban Studies, University of Winnipeg advises that they had 76 completed surveys with a response rate of about 40%.

Scott McCullough and Sarah Zell from the Institute of Urban Studies will be reviewing the data and the results of the survey will be shared with everyone in the next few months.

As part of filling out the survey, your name was entered into a draw to win a Microsoft Surface 3 Bundle!! ($900 estimated value).

The winner of the prize was Marilyn Natyna from Minitonas First Baptist Housing Corp. in Swan River. Congratulations Marilyn!