Welcome to the Manitoba Non-Profit Housing Association
MNPHA will build, support and strengthen our members who are diverse non-profit housing providers in Manitoba through services, educational opportunities and advocacy.
MNPHA ANNOUNCEMENT
On a sad note…
The Board of MNPHA regrettably advises that Chris Rootsaert has resigned from his position as Executive Director effective May 13, 2016. Chris has decided to return to his position at Ten Ten Sinclair Housing Inc. Chris stated:

"I have very much enjoyed working this brief time for the Association, but I have come to realize that I need to continue my work serving tenants directly in the non-profit community and as such I have decided to return to Ten Ten Sinclair Housing Inc. Though I truly did look forward to building upon the important work and momentum that MNPHA has been facilitating, I feel I must apologize to the Association and its members for this change of heart as I understand this may now present some additional challenges. I do however have no doubt that MNPHA will be able to easily meet these challenges and continue on its successful path without me as the Executive Director.

I am also still very much committed to MNPHA and will continue my involvement on the Education committee to assist the Association as much as possible going forward and to hopefully become a board member in the future. I wish MNPHA and its members all of the best beyond this point. I am also very excited to witness any future successes that this Association can achieve with its great potential. There is so much good that can happen when so many knowledgeable people combine their experiences to promote education and positive change!"

Since we all have passion for the work that we each bring to our workplaces every day, we understand the tough decision this must have been for Chris.

The Board has been meeting to discuss next steps. If you or anyone is interested in the position, please have them contact me directly at lsocha@sam.mb.ca. We will continue to keep the membership apprised of our plan for filling this position.

In the meantime, we will continue to serve the membership, so don't hesitate to call us with any ideas, comments, needs or anything else that arises. The phone and emails will be forwarded and looked after.

On a happier note…
MNPHA is happy to announce that we have hired Donna Whyte Watts as our End of Operating Specialist. Many of you will recognize Donna's name as she worked at Manitoba Housing for many years. A brief bio on Donna is below.

Donna brings over 25 years of experience in social housing including time with Portfolio Administration, The Winnipeg Housing and Homelessness Initiative, the Rural and Native Housing Program and as a Property Manager for direct-managed residential housing. She is also a coach and facilitator with a passion for personal and professional development. She is committed to assisting housing service providers in the process of expiring operating agreements.

Donna can be contacted at eoa@mnpha.com and we will have a phone number shortly for her. In the meantime, please contact the MNPHA office at 204-797-6746 and we can help you out.

If you need any advice or help as you approach your end of operating or have suggestions or ideas to pass to Donna to help other groups, don't hesitate to send her an email. MNPHA is able to have this position due to the grant we received from the Winnipeg Foundation and Manitoba Housing.

Exclusive Offer to MNPHA Members with Assiniboine Credit Union
NOMINATIONS NOW OPEN!
On behalf of the Board of Directors of MNPHA, we are pleased to introduce an exclusive offer to MNPHA members with Assiniboine Credit Union (ACU). The Partnership is being launched in a Pilot Phase for 2016 and based on the response, will be re-assessed in 2017. Benefits offered exclusively to MNPHA members in order to acquire Building Condition Assessment Reports (BCA) are twofold: (1) Preferential Pricing capped at $2,000 (2) Reimbursable grant of $2,000. Details on the grant along with the application form are attached. If you are interested in applying for either of these benefits, you must fill out the application form. Note: Deadline for application is May 31, 2016.

ACU has been very involved and supportive our Association and they very much want to have the opportunity to be a partner with you, our members, in your financial requirements.

We are very pleased to enter into this Pilot Partnership with Assiniboine Credit Union that offers exclusive pricing and reimbursable grant to our members. Please feel free to contact them directly for any questions you may have.

Click here to download the Pilot Partnership overview.
Click here to download the ACU Grant for Building Condition Assessment (BCA) Reports.
Manitoba Non-Profit Housing Association's Spirit of Housing Awards
NOMINATIONS NOW OPEN!
Deadline for nominations is October 1st, 2016. Nominate a Board Member, Employee, Volunteer, Tenant or Leader in your Community!

Click here to view and download the nomination forms.
Phase 1 Report
The Expiry of Operating Agreements: Preparing Manitoba's Non-Profit Housing Sector

Click here to download the report >
Click here to download the presentation>
Conference 2016
Click here for more information.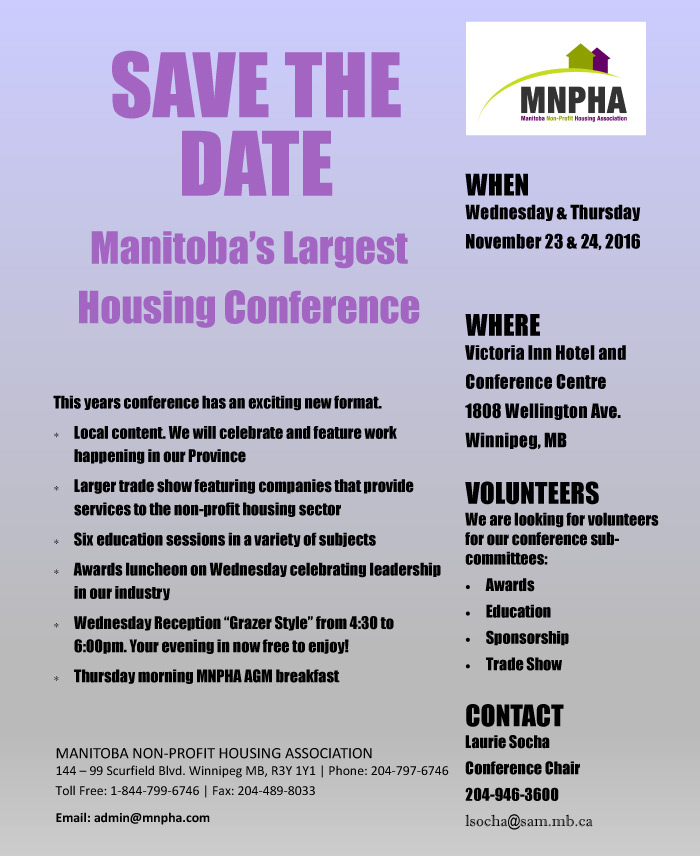 Thank you to all who completed the End of Operating Survey.
The Institute of Urban Studies, University of Winnipeg advises that they had 76 completed surveys with a response rate of about 40%.

Scott McCullough and Sarah Zell from the Institute of Urban Studies will be reviewing the data and the results of the survey will be shared with everyone in the next few months.

As part of filling out the survey, your name was entered into a draw to win a Microsoft Surface 3 Bundle!! ($900 estimated value).

The winner of the prize was Marilyn Natyna from Minitonas First Baptist Housing Corp. in Swan River. Congratulations Marilyn!